Print Smart
The university's Procurement Services Department is now offering Print Smart, a FREE service to help you optimize your unit's document production process. With Print Smart, your unit can enjoy cost savings of up to 30 percent on a variety of expenses, ranging from toners and paper to maintenance fees and energy costs—and support U-M's sustainability initiative.
View a brochure about Print Smart: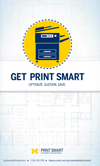 Learn more about Print Smart:
Print Smart also enables you to earn credit towards your Sustainable Workplace Certification.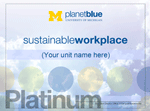 For more information about how you can get Print Smart and help the university with its long-term cost-containment and sustainability initiatives, please contact Tom Forest from the Print Smart Program, at printsmart@umich.edu or (734) 615-7275.